I knew going over to Wales that I couldn't slay the Dragon.
I went over with confidence in my training that I could finish the race. I knew I wouldn't be competitive. I didn't know anything about any of the other racers or their abilities but knew they would have the homefield advantage by knowing the terrain and having experience navigating through it. I went over to experience a new type of racing in a place I had never been.
This was not a marked course like what we have here in the States. We were given a map each morning with the checkpoints marked on them. We used a map and compass to navigate to these checkpoints along the route. To be a finisher in the race you have to visit all the checkpoints each day.
Mileages below are what the race director said we would have if we took the best line, so it is an approximation. The total feet of climbing each day came from my barometric pressure based altimeter which I have always found to be accurate.
Monday Day 1. 31 miles/ 15,600 ft of ascent/ 15:42.
Yes that is 15 hours and 42 minutes for a 50k!
Day 1 was the toughest for climbing. We hit all 15 peaks of 3000+ feet in Wales this day. We had a long section up high where I ran out of water for a few hours. This caused some cramping in my thighs and calves climbing up Tryfan after the re-supply point. Jon Barker, my friend from Georgia whose idea this was, and I started out very conservative to make sure we didn't run ourselves into a hole on the first day. The truth is there was not much running at all on the first day, mostly hike up and a choppy steep downhill in between the climbs. The first day included a traverse of Crib Goch, a rocky knife ridge with plenty of exposure.
From the Guardian. Not me in the picture, two other racers. For more great pics from the Guardian click link:
Dragon pics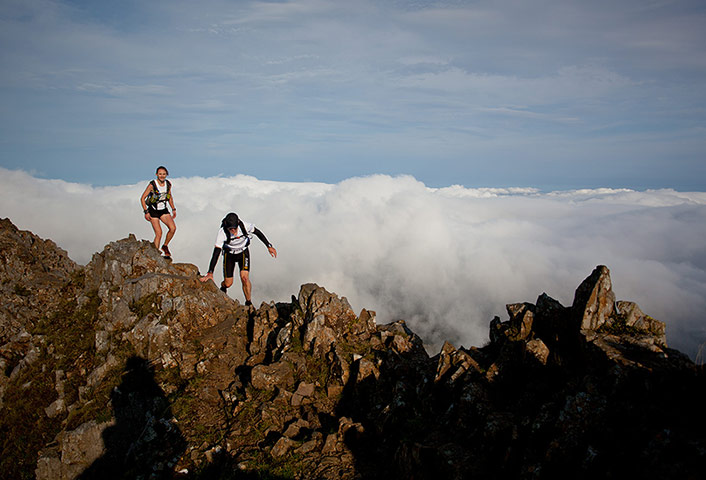 After arriving at the finish well after dark we had to get our bags and find a tent, then grab some food and get some sleep. Jon and I wanted to start early the next day to get the most out of the daylight hours.
Tuesday Day 2. 32 miles/11,200 ft of ascent/ 12:12
.
We hooked up early on the course with Mark and Jonathon and spent the rest of the day with them.
Jonathon had scouted this section before the race based on the only other running of the race back in 1992. The days route seemed much easier and we moved faster and finished in the daylight. This camp was in a commercial campground and was the only night we had shower facilities.
Wednesday Day3. 40 miles/ 11,000 ft of ascent/ 14:32
.
Today started with a big climb out of the campground. Jon Barker is the man behind me.
I felt better on this morning than I did yesterday morning. Getting in earlier and getting off my feet really helped the recovery. The first half of the day's route went well. Started getting really hot and tired heading into the resupply point.The checkpoint was on the other side of a small town. On the way through we stopped at a store and I purchased a Coke, two fizzy orange drinks that are popular in the UK and a bag of chips. While sitting on the sidewalk eating, another pair of racers joined us; Andrew Burton and and Charlie Sproson. These two had started 30 minutes or so after us (you could start each morning between 6 and 8) and were making good time.
Jon and I also stopped at a pharmacy for some sunscreen and some ibuprofen gel for his shin that was bothering him. It was too late for the sunscreen, I was already sunburned. I would have never though I could have gotten so sunburned in a country known for it's wet weather. The only rain we had for the week of the race was a drizzle on Tuesday morning.
The second half of the the day's route seemed to drag on forever. We were caught by Nicky Spinks and Tim Whittaker before the last climb of the day. We welcomed the company and two more sets of eyes for the climb up and over to the camp in the dark. Nicky and Tim both shared some salty snacks after I said I was tired of gels and bars. This improved my spirits in what was one of my lowest spots of the whole race week. We finally topped out and started our descent toward camp. We actually had a good running surface and with a couple bright headlamps we were able to trot most of the way into the finish.
Another late night coming into camp which had the tents set up inside a barn. It would have been great to have a dry camp if it had been raining but instead all I could do was groan about all the big rocks under the tent floor. My little Z-Rest pad was not enough cushion for a good nights sleep, so I tossed and turned all night trying to find a spot between the stones. I am sure my tent mates, which included Charlie and Andrew, got tired of my bitching about the rocks.
Thursday Day 4. 40 miles/ 6,200ft of ascent/12:40.
Today's route had a lot of road. With aching legs it was hard to run for long stretches at a time without taking walking breaks. We hooked up with Chris Hare, who we had shared time with on day one, and Wendy Dodds, a woman who had completed the first Dragons Back race 20 years ago and was back at age 61 to complete it again.
All I remember about today's route was roads, mud and a 10k downhill paved road finish that was quite painful. At least I finished in the daylight and was able to get off my feet and get some food in me. Oh, and no rocks under the tent!
Friday Day 5 Final Day! 37 miles/ 6,820 ft of ascent/10:31
.
I started the day with Jon Barker, Nicky, Tim and Chris. The only plan was to get to the castle at the finish. I felt better this morning than I had since the start on Monday .I was tired and had some aches and pains but nothing major. I did not even have any blisters after four days of wet muddy feet. The Altra Lone Peak shoes really worked flawlessly. So many people had foot problems including Nicky and Jon. It was obvious they were dealing with a lot of pain. I didn't know Nicky's background at the time but did know Jon's. He has lots of experience doing long adventure races that inflict pain. He would just deal with it. And so would Nicky.
The first three checkpoints seemed to come quickly. No big climbs, good footing and a little mud.
After the third checkpoint we went through a town. Tim talked to a local who told him where the bakery was and the two of us sprinted down the road to purchase some meat pasties and sausage rolls. Oh they were good, best meal of the week!
At the resupply point at about halfway we had added three more to our group, Mark, Amanda and Kirsty. About the same time we arrived, in came Andrew and Charlie looking ready to finish this day up quick as possible after four days of racing. I asked Jon if he was okay with me finishing up with the two. We had put a lot of training time in together and spent the last four days on the course together. He said he had no problem finishing up with the group we had been with so far today. Probably really tired of hearing me talk anyway.
I took the brace off my left ankle that I had been wearing since twisting my ankle on Tuesday in a hole in the mud. It had be causing discomfort most of the last two days and I felt much better without it on. Off I went with Charlie and Andrew. They really moved well. We had good running up till the approach to the last checkpoint where the route got very rocky again. After collecting the last checkpoint it was off to the finish at the castle that we could see in the distance.
The finish was a short climb up to the castle. Charlie and Andrew decided to storm the castle but my legs did not have it in them to join the two. I hiked up the final hill and the stone steps to the finish inside the castle.
It was a great experience running across the mountains in Wales. I am very pleased to be one of 34 finishers of this race. I think 80 to 85 started and half the field didn't make it through the first stage. It was a tough race, well out of my comfort zone, but this is why I signed up. I surely didn't slay the Dragon or even really make friends with the Dragon. I heard Dragons don't make good friends anyway, but runners anywhere in the world do make great friends! Nicky, Tim, Charlie, Andrew, Chris, Mark and Mark, Jonathon Davies, Gary, Henry, Stephen Kriel, Amanda, Kirsty, Wendy, Jon Moulding and many others, it was a pleasure meeting you all.
Can't close without thanking all the volunteers that gave up a week to feed us, set up the tents, transport our bags and patch us back up.Thanks!
Special thanks to my friend Tom Sloope of Carter and Sloope for all his support here in Macon and John Teeples from Big Dog Running Company for his support too.
Thank you Jon Barker for suggesting this race and giving me a place to stay and the good company on all the weekend training runs in north Georgia. What's next?
Thanks to my biggest supporter of all, my wife, Teri. Without her this would not have been possible.